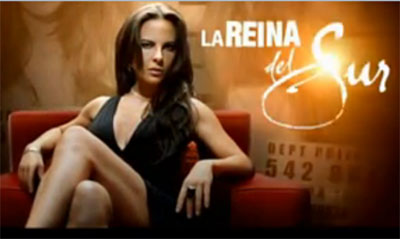 I am dreading watching the premiere of Queen of the South tonight. Why? Because it cannot possibly be as good as La Reina del Sur and nobody can take the place of Kate del Castillo as Teresa Mendoza, the fictional heroine of the novel, La Reina del Sur.
Added: I was right to dread it. It's absolutely awful. And a sacrilege. First, the actress playing Teresa Mendoza is nowhere near as self-confident or charismatic as Kate del Castillo. Second, it doesn't follow the plot of the novel from which it's taken. It takes the characters' names but then invents a plot that descends into stereotypes in the first five minutes. For example, Teresa Mendoza would never consume drugs. This show  has her snorting white powder in the first scene. It also has her dead in the first scene, as if the rest will be a flashback. The Teresa Mendoza of La Reina del Sur doesn't die — she goes off into the sunset, with the help of the DEA and to the consternation of authorities in Spain, pregnant and alone but in a gorgeous house on the ocean somewhere in a beautiful part of the world. 
Second, the accented English on this new version seems completely phony and stereotyped. Spanish with English subtitles/captioning is so much better. Third, this show takes place in the U.S. and Mexico. Teresa Mendoza (who is a fictional character from the novel, La Reina del Sur) fled Mexico before she started trafficking drugs — to Spain and North Africa– she was Queen of the drug trade in Europe, not  not in Mexico or the U.S. American cable TV networks should stay out of the novela imitation business, they do a lousy job. And no, Narcos was not any better (it was the story of drug cops not drug lords, and took too much license with the facts.)
Here is the basic plot of the Spanish novel, La Reina del Sur:
Guero Davila is a pilot engaged in drug-smuggling for the local cartels. Teresa Mendoza is his girlfriend, a typical narco's morra– quiet, doting, submissive. But then Guero's caught playing both sides, and in Sinaloa, that means death. Teresa finds herself alone, terrified, friendless and running to save her life, carrying nothing but a gym bag containing a pistol and a notebook that she has been forbidden to read. Forced to leave Mexico, she flees to the Spanish city of Melilla, where she meets Santiago Fisterra, a Galician involved in trafficking hashish across the Strait of Gibraltar. When Santiago's partner is captured, it is Teresa who steps in to take his place. Now Teresa has plunged into the dark and ugly world that once claimed Guero's life– and she's about to get in deeper.
(Note: In the book and Telemundo series, Guero wasn't killed for playing both sides, which he was, unbeknownst to the cartel, but because he started doing his own side-deals. Teresa doesn't find out he was working for the DEA until the very end, when his DEA sidekick who saved her life with a phone call and a plane ride after Guero was killed, and who has been following her in Europe, tells her more than a decade later, when he gives her a chance to "save herself" for the final time, by taking down the cartel leader who had Guero killed and who tried to kill her as he's about to become President of Mexico. She loathed informants and never hesitated to have them killed, but with Spain about to arrest her and in an advanced state of pregnancy and her empire collapsing, she accepts the offer to fly to Mexico and testify against the cartel leader in exchange for her freedom and the freedom of her Russian mob partner.)
La Reina Del Sur is available on Netflix with subtitles. Just watch the first episode and you'll see how this USA Network version sucks. Watch just the first episode of Pablo Escobar: Patron de Mal on Netflix with subtitles, and see how much better it is than Narcos.
Meanwhile, El Senor de los Cielos Season 4 is winding down. At least there will be a Season 5, but it will leave a huge hole in my nightly TV watching. This season has highlighted corruption in Venezuela, corruption in the Mexican Government from the President on down, Aurelio's search for offspring to donate a kidney for his much-needed transplant, and ties and rivalries between the Colombian and Mexican cartels. It's always a bit violent, but this week the  Mara Salvatrucha, an  uber-violent gang from El Salvador come to Mexico City, at the behest of Aurelio's overly competitive nephew Victor, to take over the street drug trade from the Colombians. They are the scariest looking gang — on the show and in real life.
The actor who plays MS leader "Skinny", is so good he's almost too scary to watch. And only in Senor de Los Cielos – land would  a TV series feature the head gang member having his rights violated by the cops, although it happens in real life.
By the way, seasons 1-3 of Senor de los Cielos are on Netflix. It's worth watching for the production value alone — great detail in the houses, furnishings, scenery, clothes and makeup alone. And Aurelio, the star of Senor, played Geuro in La Reina Del Sur. The Colombian "Officer" in Senor played the DEA agent who saves Teresa in La Reina del Sur. He also played Pablo Escobar's cousin Gustavo in Patron de Mal.
In the end, in all these shows, the drug traffickers end up paying a huge price, usually with their lives. There's not much glorification, just some humanization. And a lot of captivating entertainment.