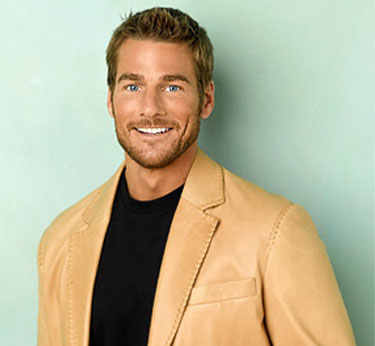 Bachelor Pad may have started a trend: Retreads. I don't mean that in an unflattering way — I like watching many of the past contestants after their season is over — like Melissa Rycroft moving on to DWTS, Jesse Csincsak and his Bachelor reunions, Wes Hayden and his concert tours. Apparently, viewers do too.
The latest: Breaking with the tradition of recent years, the star of Bachelor 15 will not be an Ali Fedotowski reject, but a former Bachelor. Which one? Brad Womack of Season 11, that aired in the fall of 2007. Brad, you may recall, was the first Bachelor to reject both of his final choices at the Final Rose Ceremony. It was like leaving not one, but two brides at the alter.
What a brilliant choice by Mike Fleiss & Co. Not only do the show's loyal viewers remember Brad, the sexy bar owner from Texas, but he turned out to be a polarizing figure, which is great for ratings. He's also a great choice for new viewers who don't remember him from Season 11 because he is very hot looking. Like eye candy. And, both new and old fans of the show will tune in to see if the season ends with another train wreck and who the road kill will be, all the while hoping he really finds love this time. (I'd call it built-in suspense, but I'm sure Reality Steve will publish the final outcome before the first episode even airs.)
The question is, why would Brad put himself through this again? If you missed Season 11, here's a short recap in pictures:
Brad picks out a ring: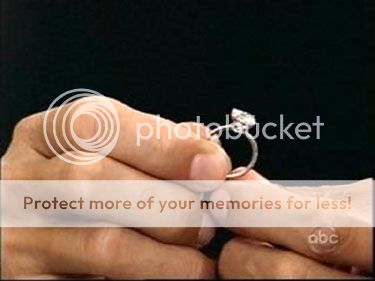 Brad, not having fun at the Final Rose Ceremony:
Brad breaking Jenni's heart:

Deanna, after Brad breaks her heart:
Brad breaking his own heart:
What a great season this could turn out to be. If only they'd also bring Bettina back — Brad should never have let her get away. But her family thought he wasn't educated enough for her — and her father basically said so on air. You never see that anymore, now they just show the parents claiming to be thrilled with the choice. (Or, like Melissa's parents, who refused to go on the show, but attended every taping of DWTS, we never got to see the juicy conversations that must have preceded that decision.)
Say what you want about how much you liked Chris L. from Ali's season, but he isn't Bachelor material. He doesn't have the "wow" factor. (Either did Ali, Jake, or Jason. But that's another story.) I really think Brad, on the other hand, like Deanna and even Jillian in her season, will make for good TV.
Tune into Dancing With the Stars this Monday night, when Brad will be sitting next to Chris Harrison as he makes the announcement. Filming begins next weekend. And yes, Reality Steve, as always, broke the news first.