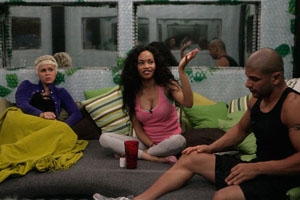 Update: Here's the scoop according to Jokers Update which follows and transcribes much of the live feeds:
Chima broke numerous BB rules: racist comments, non-compliance with production and destruction of BB property, for starters. Spoiler Alert: After Jeff won the coup d'etat power and Jesse who was voted out, Michelle became the new HoH and put Chima and Natalie up for eviction, at which point Chima freaked out & became the evil houseguest. She refused to wear her microphone ("I'm not mike-ing up" a la Cindy Anthony, lol) and threw her whole mike-pack into the hot tub (a big BB no-no to mess with your mike, supposedly $4000 to replace!). And she kept cussing out the BB production team, screaming & yelling and flipping off the cameras. She'd also made numerous racial slurs about Russell, said he was an "extremist Muslim terrorist," that "Russ is a terrorist and I am the Twin Towers" and that Americans hate Middle-Easterners so he'll never win. Russell happens to be Catholic and Lebanese (Danny Thomas was Lebanese & I was very young when his show was on but I don't recall him being a terrorist, lol). Chima had also stolen Russell's rosary, which was later found in her belongings after she was expelled by exec producer Allison Grodner, who had to go over to the BB house at 2am because of Chima's behavior. Apparently Grodner still tried to keep Chima in the house but Chima kept screaming at Grodner, and that was the end for Chima.
Earlier post with CBS's Statement below:
CBS has issued an official statement confirming it booted Chima from the show:
"Chima has been evicted by the producers from the Big Brother house for violating the rules. She will not be part of the show's jury. Her eviction will be addressed on an upcoming broadcast of the show."
Also, Michelle's HOH apparently has ended early and a new one will be picked today.
Earlier Post:
On a non-eviction day, Chima has left the Big Brother household. Some report she was asked to leave, others report she quit. Spoilers are here.
Either way, it was time. Her screaming and arrogance were becoming a drag on the show.